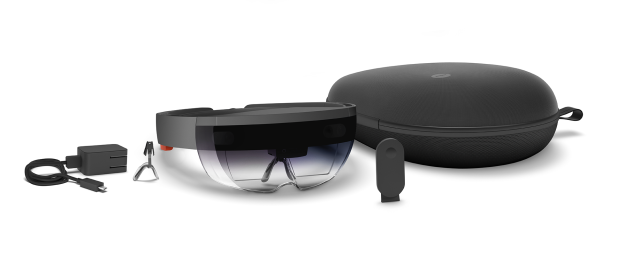 If you want to get your hands on Microsoft's holographic headset, the company is now taking pre-orders for the HoloLens Development Edition. Hardware will be shipping to the US and Canada on March 30, just scraping in to Microsoft's first-quarter deadline. As previously announced, the hardware will cost $3,000.
As pictured, the development kit appears to be relatively barebones, containing the HoloLens, a charger, the Bluetooth 4.1 Clicker that leaked earlier this week, a carrying case, a microfiber cloth, and replacement nose pieces. While the HoloLens itself is fully self-contained, running wirelessly and independently, developing HoloLens software will require a PC that can run Windows 10 and Visual Studio 2015.
Microsoft is being a little more forthcoming with some of the HoloLens hardware specs, though there are some oddities in there. We learned last year that the system was x86 powered with 2GB RAM, 802.11ac, and a 60Hz refresh rate. That hasn't changed, but now we have some more detail, particularly around its sensors. The headset is chock full of cameras—four to "understand" the environment, one to build depth maps of the world, and a 2MP camera for photography and video capture. It also incorporates four microphones, an ambient light sensor, and an inertial measurement unit that combines accelerometers and gyroscopes to detect movement.
Read 6 remaining paragraphs | Comments